Raimo "Rami" Vepsäläinen
Maria is a researcher in the DesignBites project, specifically interested in the themes of storytelling, networks and ecosystems, and entrepreneurial identities. She comes from an international design business management (IDBM) background, with first-hand experience of entrepreneurship from running her own company TwentyKnots. She's also a passionate photographer, and comfortable decoding narratives in not only in the interview data but also the Instagram feeds of the ventures we track.
---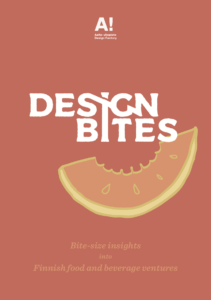 Download our DesignBites report here.
Full post
Maria Mikkonen
Connecting theory and practice
Tua is one of the co-founders of the Design Factory. As a professor of practice appointed to the Design Factory and the head of its research, her work revolves around understanding, teaching and developing co-creation efforts, turning ideas into improvements in organizations and education.
Tua heads research at the Design Factory, looking into sustainable design practices, innovation in organisations, co-creation and the impact of the Design Factory. In addition, she manages the externally funded research projects Design Plus and DesignBites, investigating how design thinking can change the way companies organise for innovation and how collaborative experimentation can give rise to new opportunities. She is the Aalto lead for Cataly(c)st, a Nordic initiative for educating change makers for a more sustainable future. Outside of Aalto University, Tua is one of the associate editors of the Journal of Engineering Education, the highest ranking journal in engineering education.
On the teaching front, Tua is a part of Design Factory efforts to promote developing university teaching. She teaches responsible innovation in Mechanical Engineering in Society, Design thinking in Innovation Projects, Service design tools for creating change, Research in Design and Innovation, and design innovation in executive and professional education.
Tua has a DSc degree in work psychology from the Aalto University School of Science, and an MA degree in cognitive science from the University of Helsinki.
Recent journal publications
Full post
Tua Björklund