We all know that the Covid-19 pandemic has affected many businesses globally and locally. When lockdowns and government restrictions were put in place, especially the food and beverage entrepreneurs globally needed to act quickly and find creative ways to survive the crisis.
The specialty coffee market also had its challenges imposed by the crisis both locally and globally. According to a survey made by Specialty Coffee Association in March 2020,  with replies mostly from  US and UK based coffee businesses, 43% of the respondents stated that Covid-19 had a significantly negative effect on their organization, and 27% respondents showed the virus having a somewhat negative effect. Another study made by Allegra World Coffee Portal and Alpro on the impact of the Coronavirus Pandemic on cafes and coffee shops in the UK, highlighted that 30.2% of the respondents had had a negative monetary impact on their revenue from the pandemic around  £20,000 to  £49,999 in May 2020.
Despite these challenges, entrepreneurs acted fast and furiously. Below are some examples of how they survived the crisis and how they are still finding creative and collaborative ways to be resilient in unknown times.
From Crisis
March 2020 was a devastating moment for many coffee businesses. According to the SCA survey, customer demand sank by 85% in March 2020. During the same month global important events were cancelled and 14% of the respondents were experiencing a 50% increase with company expenses, forcing the entrepreneurs to act fast. Not only were the ventures battling with decrease in demand, but simultaneously affected by an increase in expenses from higher cleaning expenses, staff labor, rents, supplies and transportation. According to another survey made by a Norwegian green coffee importer and supplier, Nordic Approach, 38.5% of the respondents were working on a 20-50% capacity in May 2020. This all shines light to the fact that the global specialty coffee market was hit hard by the global pandemic. As one of our collaborators Riku Uski from Warrior Coffee explains it:
"We, as probably many others, noticed and got a wet cloth thrown at our face in March, when the normal sales channels drained."

Riku Uski / Warrior Coffee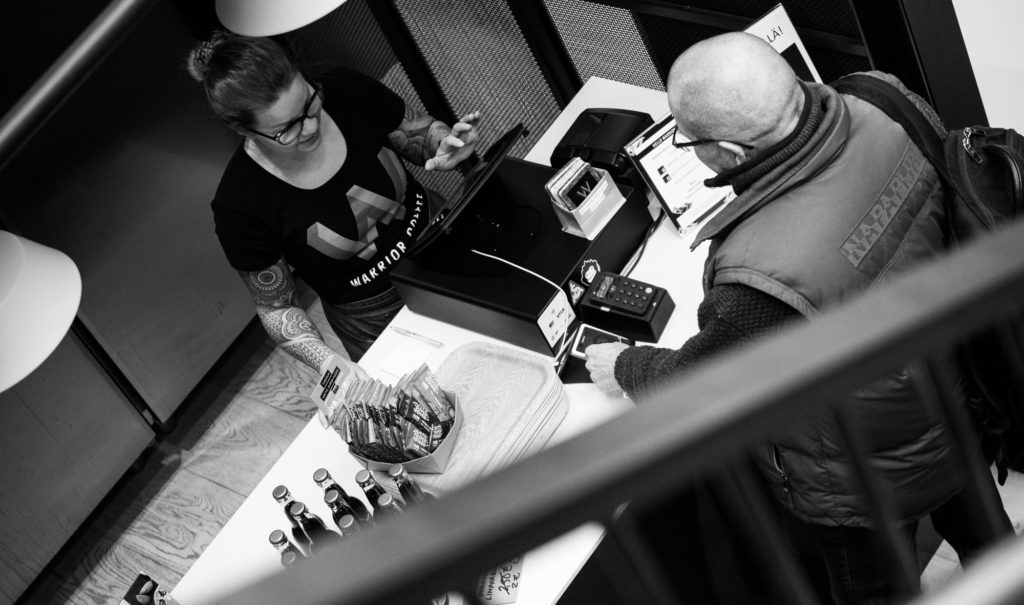 (c) Maria Mikkonen
To Creativity
Out of this crisis, as usually from tough times, emerges creativity, innovations and solutions. Giones et al. (2020) writes how Bradley (2015) suggests resourcefulness being one of the important qualities of entrepreneurs, that helps them to recover from the economic resource shocks (Williams and Shepherd, 2016b). Additionally Giones el al. (2020) suggests that resourcefulness "stimulates the creative behaviour of making-due with existing resources available to build viable new products and services"
Entrepreneurs needed to find ways to keep their businesses afloat despite the shock of the crisis. As Kuckertz et al. (2020) identified in their fieldwork with entrepreneurs suffering the effects of the COVID-19 crisis in Germany, the way forward requires balancing building resilience as well as being ready for new entrepreneurial opportunities. In a similar vein, a recently published paper examining the rapid action responses of the Finnish food and beverage entrepreneurs (Björklund et. al 2020) highlights the impact of 'doing' not only on the solution outcomes, but also a change in organizational skills and capabilities, assets for future action and crisis reactions.
Some of the key strategies the coffee entrepreneurs created as a response have focused on boosting online sales and creating a web shop if such wasn't existing yet, finding alternative sales venues and helping others.
Online sales have played a vital role in the coffee businesses' tools to combat the pressing  crisis. Even the simplest web shops were created to speed up sales when the regular sales channels quieted down. This happened for example to a Finnish coffee roastery, Record Coffee Company, whose clients are mainly from the HoReCa sector (term meaning hotels, restaurants and catering companies). The owner and director Jesse Parkkali comments the situation:
"Our customer base is 90% restaurants and cafes so when the pandemic hit, it had a clear effect on our business as well. It was a tough couple of months, but when in June the lockdown regulations eased, things got a bit easier. — We didn't have a proper web shop when the pandemic hit. We needed to think how to sell coffee directly to consumers, so we created a hashtag #coffeeaid and narrowed our products down to one coffee only."

Jesse Parkkali / Record Coffee Company
Despite low amounts of products offered at the online store in the beginning, the new sales channel introduced new clients to the company, offered a new service for the existing clients as well as spurred new ideas about how the platform could be used in future endeavours. Online sales kept many companies afloat during the strongest crisis and might stay as a long-term positive solution for reaching new clients and diversifying sales possibilities post-pandemic. Creating a web shop and running it can be time-consuming for small businesses but as Parkkali tells, having an online shop to sell products during uncertain times can be a way forward:
"We do not know if there will be another lockdown because of the virus so we want to be better prepared for that, if that happens."

Jesse Parkkali / Record Coffee Company
Arttu Muukkonen from Lehmus Roastery from Lappeenranta also highlights the importance of the online shop during crisis:
"I needed to take it (online shop) over. I had luckily time in 2019 to practise it before the corona hit. And when the corona had hit and all the sales moved to online, we were ready. And we had a chance to utilize the momentum of corona in our online shop so that our online sales supported our operations during the Spring."

Arttu Muukkonen / Lehmus Roastery
While shifts to virtual and online environments were visible to outsiders, finding alternative sales venues behind the scenes also kept the entrepreneurs busy. Shifting core customer segments from storefronts and wholesalers to grocery store channels brought the businesses sales when other sales channels had depleted rapidly; thus possibly bringing in new customers and increasing visibility amongst new prospective clients.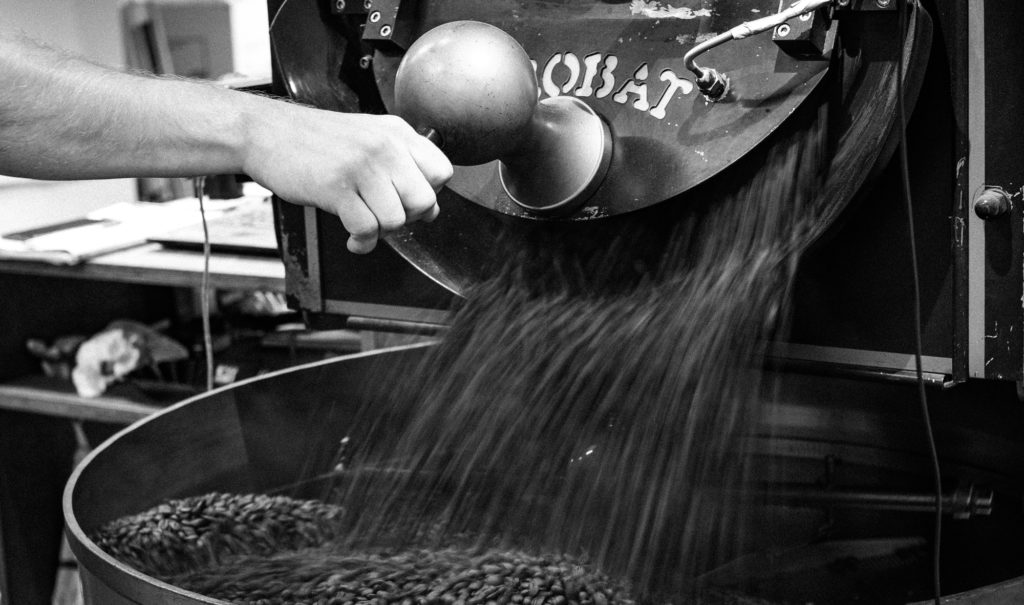 (c) Maria Mikkonen
Lastly, the crisis has let the humanitarian hearts fly within the coffee industry. From various webinars and study materials for the entrepreneurs and 'juniors' in the market, there have been support projects created for the lost incomes of baristas like the Virtual Tip Jars in the USA, projects aiding coffee producers with the increased labour costs like the Farmer Covid Relief Fund as well as campaigns to bring free coffee for the hard-working nurses and doctors. Keeping the healthcare professionals fuelled with caffeine got London, Paris and Melbourne excited.
"We wanted to give a solidarity message to our customers. With #coffeeaid we put 3€ from every bag sold aside and every 10th buyer gets that money as a gift card to a local business close to the gift card winner. We have so far given out 200 gift cards all over Finland. This has been a special thing for us as well. The idea was to show other entrepreneurs that we can work in this together. It was all about solidarity."

Jesse Parkkali / Record Coffee Company
From the various webinars and surveys done within the coffee industry in Spring and Summer 2020, it shows that communication and openness have been the key in surviving from increased expenses and in creating new sales. Muukkonen comments the situation:
"We have been able to strongly grow our sosial media channels and communities so that our followers can vote in competitions and we have created an active interaction relationship. The only way to communicate (during the pandemic) for us was to be direct, candid and honest. That is our way."

Arttu Muukkonen / Lehmus Roastery
Other creative solutions seen within the coffee industry world-wide include pre-selling of gift certificates, a coffee bean vending machine, online discounts, free shipping offers, new platforms and staff expense reductions.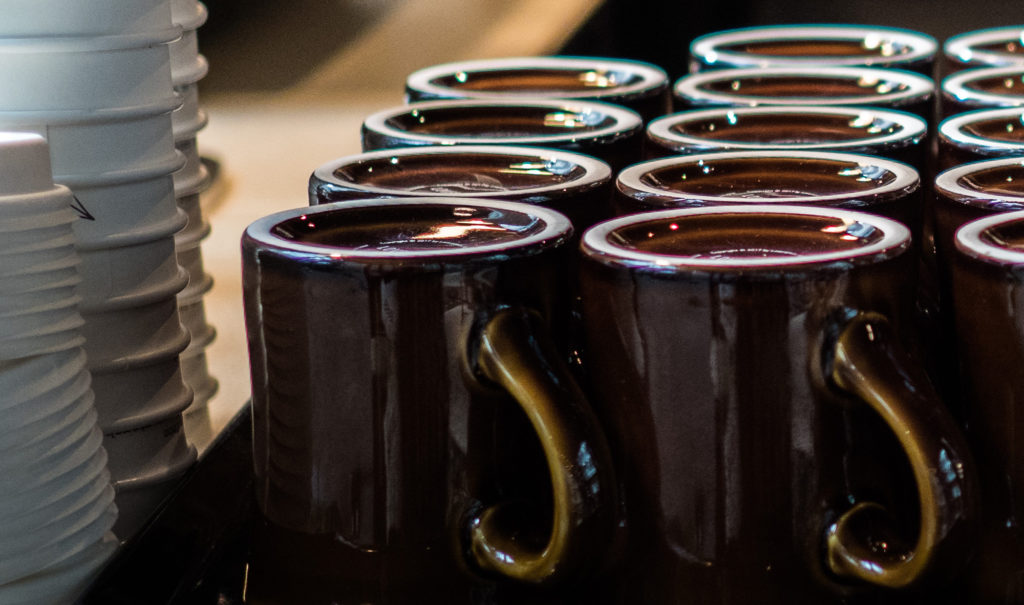 (c) Maria Mikkonen
Moving Forward
How the pandemic unfolds in the near future is yet to be seen, but the industry has pushed forward through the tough spring and summer of the unexpected crisis. Still, the effects of the virus keep on challenging the smaller and larger businesses throughout the coffee supply chain. Lockdowns remain, businesses need to adjust themselves to changing restrictions as well as to political and economical situations. What the businesses for now have surely understood of the situation is that collaboration, communication and co-creation are essential. The pandemic has birthed ideas for many new virtual projects and creations which otherwise would have been created much later or would have never seen the light of the day This happened to Finnish Warrior Coffee, who, through Business Finland financial support, launched a podcast "Kaffetuubi" during the pandemic to facilitate virtual coffee breaks for the Finns:
"For three weeks almost day and night we worked on the setup and concept. I learned how to use the different software, got all kinds of cables and adapters and programs, and got help from others how to set them up."

Riku Uski / Warrior Coffee 
The crisis has stretched the resilience and strengthened the empowerment of the entrepreneurs in the global specialty coffee industry as well as in other food industries and ecosystems. Ability to bounce back from adversity and grow from the challenges are in the heart of resilience. By focusing on the positive, being flexible and seeing opportunities in tough situations are becoming building blocks for success in the future. Finding many channels to sell your products and services, co-creating and being even more flexible and communicative will most likely keep on being very important for the entrepreneurs for the next years to come.
"You start thinking what other things we could do. You have to start thinking outside of the box, at least I have to. And also at least outside of the coffee box. I look forward to more braver brands and stories popping up in the future."

Jesse Parkkali / Record Coffee Company
You can read more about the entrepreneurial action within the food and drinks industry in Finland during the crisis from our latest report, published in August 2020: From Crisis to Creativity – Entrepreneurial action in Finnish packaged food and beverage products.
By: Hanna Huhtonen, October 2020
References
Björklund, T. A., Mikkonen, M., Mattila, P., & van der Marel, F. (2020). Expanding entrepreneurial solution spaces in times of crisis: Business model experimentation amongst packaged food and beverage ventures. Journal of Business Venturing Insights, 14, e00197.
Giones, F., Brem, A., Pollack, J M., Michaelis, T. L., Klyver, K., Brickmann, J. (2020). Revising entrepreneurial action in response to exogenous shocks: Considering the COVID-19 pandemic. Journal of Business Venturing Insights, 14, e00186.
Kuckertz, A., Brändle L., Gaudig A., Hinderer S., Reyes, C. A. M., Prochotta A., Steinbrink, K. M., Berger, E. S. C. (2020). Startups in times of crisis–A rapid response to the COVID-19 pandemic. Journal of Business Venturing Insights, e00169.