To meet the international demands' the founders of Helsinki Wildfoods and the new company METTÄ Nordic, decided to create a brand that would be specifically tailored for export.
These wild herb and foraging experts decided to start with the Japanese market and started building a new brand with this is mind. The appreciation for beautifully designed products, the unique Finland-Japan connection and high quality natural ingredients are a great starting point to look at Japan as a potential market for Finnish food and beverage ventures. Overall, this market has been appealing to quite a few companies in our study. Learning from their initial experiences with the Helsinki Wildfoods company, when designing for the Japanese market three key actions were taken to tailor their product and activities for export purposes.
"Japan and Finland have had a special relationship for a long time; the Japanese are the most familiar with Finland out of the Nordic countries, they find Moomins and the Finnish forest appealing. A huge Metsä Village has been opened in Japan and the Moominvalley Park will open there in March!"
Annika Hannus / Co-founder METTÄ Nordic
Finding a name that sparks curiosity and tells a story
Playing around with the name, the founders looked for words that would have special letters in the Finnish alphabet, in this case 'Ä'. According to Co-founder Roosa Heinilä, in Japan these types of letters in names are much liked and thus spark curiosity within potential customers. The word 'mettä' means forest in the Western dialect of Finnish, communicating the connection of the brand and its ingredients to Finnish nature and forests. While mettä doesn't specifically mean anything in Japanese, the shortness and simplicity is something similar to the Japanese language. In addition for creating a name that is quirky and descriptive, it was important for the founders to settle on something that could be protected internationally.
"It's surprising how little the Finnish food culture has been productised or exported. We should face our consumers boldly and proudly tell them about the tastes of our pristine and pure nature"
Annika Hannus / Co-founder METTÄ Nordic

Creating packaging for the 'new-premium' food category
In terms of packaging, the aim was to find something that would communicate premium quality, be cost efficient, easy to transport internationally, as well as be sustainable. According to Roosa, the products are targeted to a so called 'new-premium' food category, where the main customers are looking for both culinary experiences and environmentally conscious premium products. They decided to design the products as light as possible, to reduce costs and emissions from flight transportation, and used packaging materials that are fully compostable – still keeping in mind the story and feel of the visual identity of the new brand.

Food From Finland aiding in internationalization
In our discussions with the internationalizing Finnish ventures, most of the companies had been in contact with Food From Finland (Business Finland) and used their aid in their export efforts on various occasions. In addition to country-specific consultation, Food From Finland has organized visits to various trade shows and hosted face to face meetings with foreign buyers – leading to sales with variable success rates. They have also played part in the story of METTÄ Nordic. The two founders explain that they have been able to open doors to the Japanese market and help to validate the fit of the Japanese market through building connections and initiating discussions with potential customers. Next steps are taken around the time of FOODEX JAPAN 2019 trade show, to connect with new people and find out what kind of feedback their new products receive.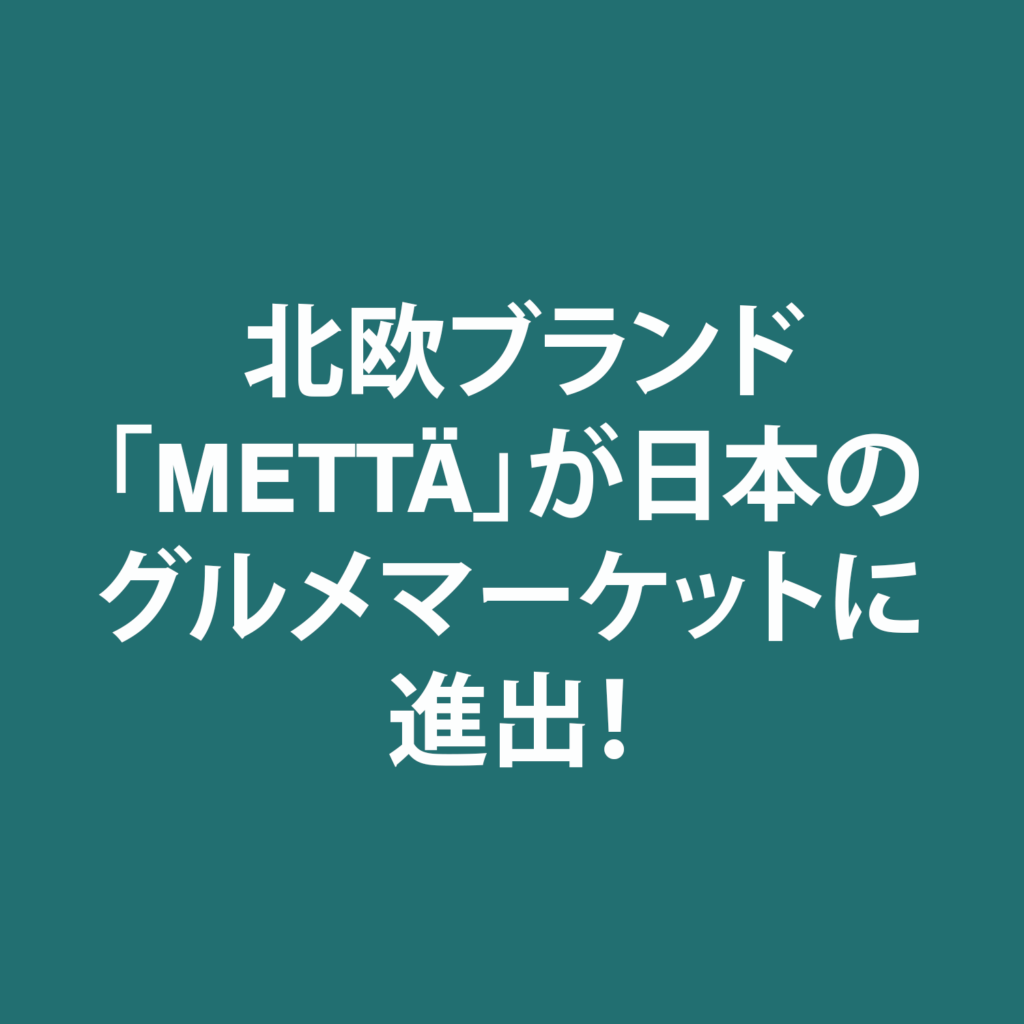 ---
DesignBites is a multidisciplinary Aalto Design Factory research project investigating the needs and practices of experimentation and design work in food and beverage startups and SMEs amidst their internationalisation efforts. During the first year of the research project, we've focused on Finnish startups food and beverage ventures, tracking the development activities of 17 companies ranging from premium food and drinks with local ingredients to creating new markets and consumption patterns. In 2019, we're broadening our view to different ecosystems across the world. Follow our journey from: Twitter & Instagram