What will be the next big plant-based protein? Will insect food make a second coming? What is this fermentation thing that everybody seems to be talking about? Is veganism merely a fad or is it here to stay? The DesignBites research team spent last Friday at Vegemessut getting insights and perspectives on the Finnish food and beverage scene.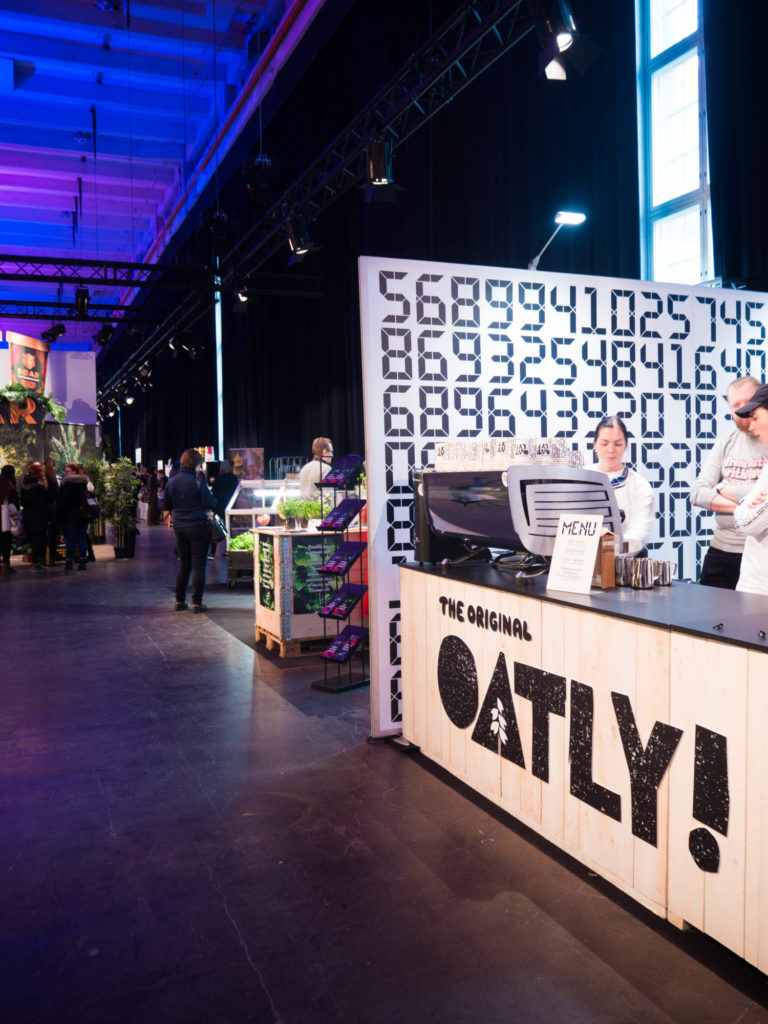 (c) Erika Perttunen
Since its founding in 2017, Vegemessut has bi-annually gathered the hottest new vegan food and over 8,000 visitors for a weekend full of program, insights, tastings and tips on plant-based food. This year, for the first time, the promised weekend of veganism was preceded by a food industry professionals' day, which DesignBites research team also visited.
The day saw the launch of quite a few new vegan products and new vegan flavours of existing products. Vegan ice cream was probably the most prevalent among the novelties to no surprise as it is one of the product categories experiencing highest annual growth. The customer favourite, 3 Friends, presented their new vegan flavour, 'Berries and caramel cookie' (Marjat & karamellikeksi) – guaranteed delicious 3 Friends quality! Härtelö, the vegan ice cream company, born out of a university course project and currently collaborating with the giant Valio, presented mint as their third flavour and Roar, a new plant-based ice cream brand, made its debut with three almost cake-like flavours.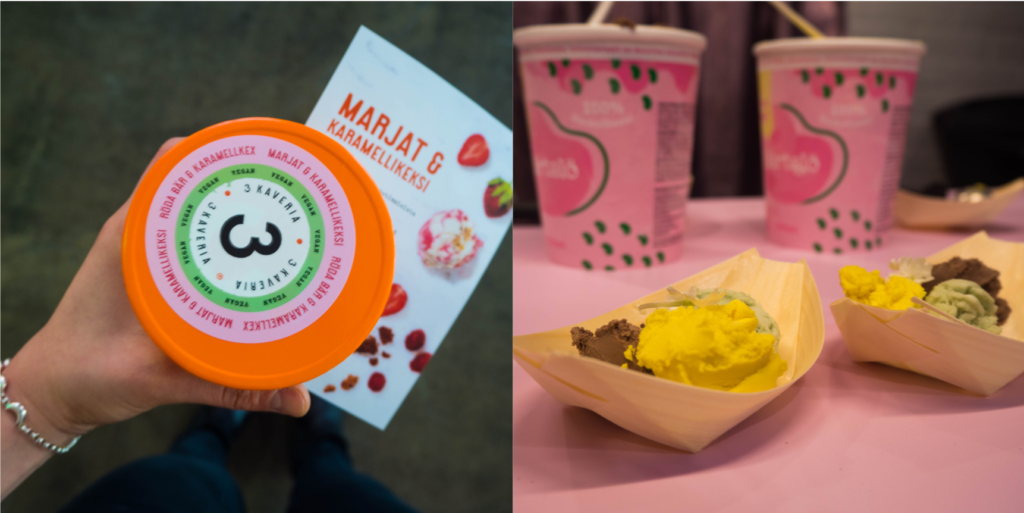 (c) Erika Perttunen
Plant-based protein was clearly another huge trend at Vegemessut. The recent years have seen a huge increase in companies offering vegan protein alternatives both in the Nordics as well as worldwide. Beanit, the Kauhava-based plant-based protein company using fava beans, had probably the most hype, but the Finnish industry pioneer, Gold and Green with their 'pulled oats' were also present. The general trend in plant-based proteins seemed to be towards more convenience – many of the new products are edible without any preparations and some, like Beanit, can even be stored in room temperature.
Although having emerged already in the 1960s, plant-based food and veganism have gained properly traction only during the last decade. Both are closely tied to major phenomena of climate change, loss of biodiversity, scarcity of resources and increase in health- and nutrition-related problems. According to the figures presented by Lauri Reuters from Nordic FoodTech VC, 40% of earth's surface goes to food production, over 25% of emissions come from food production, 70% of drinkable water is used for food production and around 2/3 of Finnish people are obese. Plant-based food is a key element in solving these sustainability, environmental and health-related problems.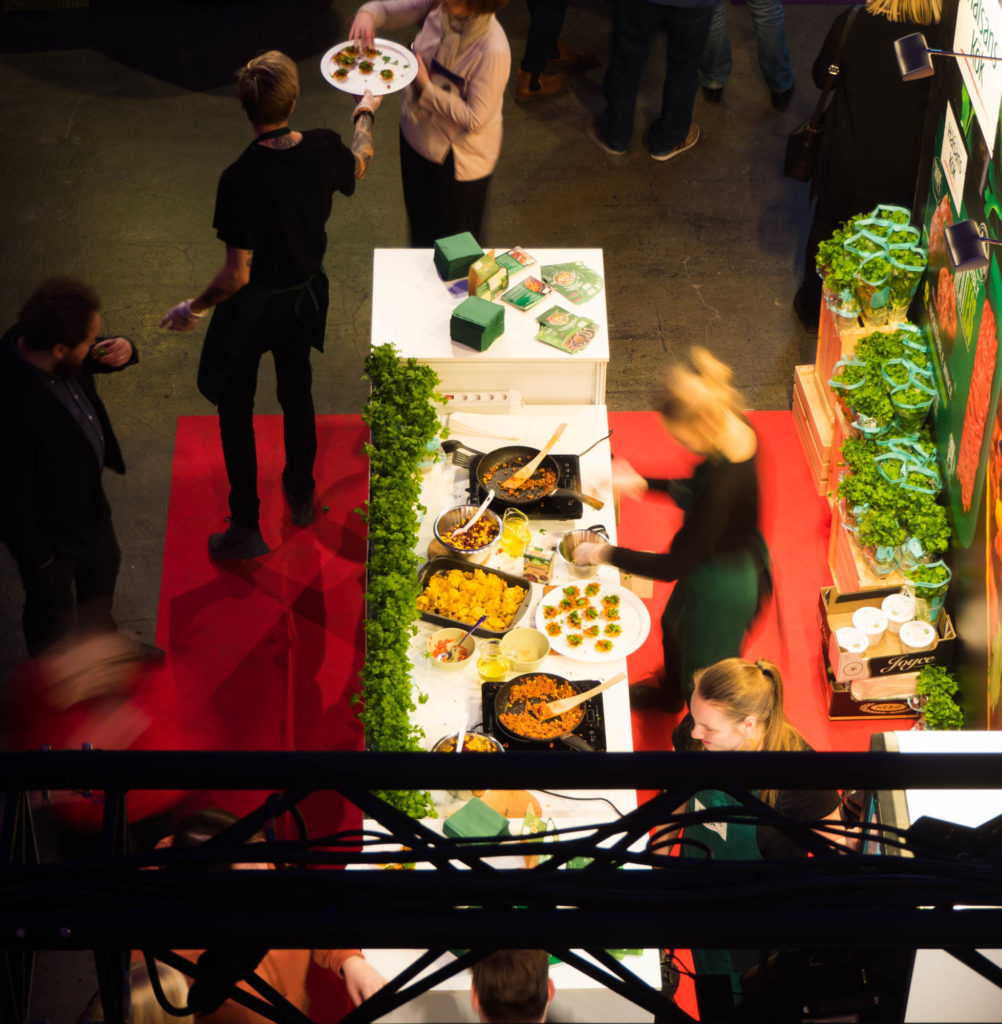 (c) Erika Perttunen
Consumers seems to have awakened to the potential of plant-based food too as conscious consumerism was last year's top food trend based on Kesko's study on phenomena in the food and beverage industry. According to Heidi Jungar, consumer insights director at Kesko, especially the origin and the ethicalness of food are important factors for nowadays consumers. In the future, the role of responsible food choices as well as individual food choices is expected to increase. Recently launched 'coal foot print indicator' (hiilijalanjälkimittari) app is one of Kesko's ways to answer these demands. Through the app, consumers can follow the coal foot print of their purchases and make better choices for the environment in the grocery store.
There clearly is lots of tailwind for plant-based food but a mainstream break in has not yet fully manifested. In his keynote on the development of phenomena, the long-time entrepreneur Jari Sarasvuo highlighted the importance of manifestable ideas rather than great ideas. However, it is better to start with a small group of favourable customers, the so-called early adopters, rather than straight away targeting the bigger early majority group. The meaning of the context can also not be emphasized enough – forcing people to extreme dietary changes will only lead to resistance. A better way is for everyone to make small better choices. After all, food is an essential part of every single culture and, thus, a potent way to change the world!