Through interviews with 18 innovative Finnish food companies and learning about their development activities, we realised that social media, particularly instagram and Facebook, are used for much more.
Social media is often seen solely as a tool for marketing, sales and communication related activities – a must for company's online presence today. Strategies are made over post publishing and influencers are used to spread their views on recent product launches. However, these creative entrepreneurs also use their channels to initiate co-creative practices in their product development processes with their user communities and various industry experts. Below we share three examples of how to initiate co-creative processes in product development through social media.
Inviting users for physical test sessions through instagram
Actively engaging for user feedback, opinions and ideas through colorful and friendly  instagram posts 3 Friends ice cream company invites their followers to be part of their product development process – both virtually and physically. The three friends describe their development efforts as relaxed and easygoing, and regularly host co-creative tasting sessions and invite participants to join through their social media channels. According to Ilkka  Wikholm, it has not been a hard task to invite eager ice cream lovers to share their picks and opinions about upcoming flavors.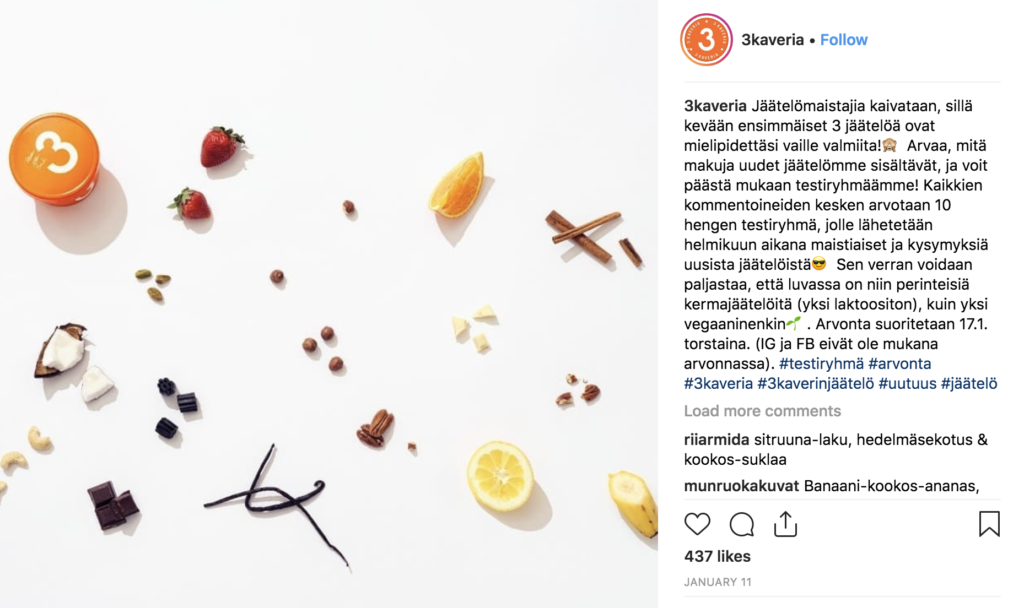 Experimenting with experts and brand ambassadors
Calling their passionate tea lover user group 'Pioneers', NORD-T, a Finnish tea company works with a tight global group of tea enthusiasts  to develop their new blends. Nina Rantala explains that the prerequisite for being a pioneer is not the amount of followers or activeness in own social media channels, but the love for tea and tea drinking culture; thus social media has been more of a internal two-way communication channel than a traditional form of influencer marketing. Especially when expanding their business to Japan, learning from local users has been important way to learn about the Japanese culture and traditions, as well as spread the Nordic lifestyle in turn. In the future NORD-T wishes to expand this group to a wider diversity of cultures and countries.
"The pioneers are a group of tea lovers with whom we share a common passion for tea, who get to test our products in first hand and whom we organize private tea events for. We have now had the chance to meet up in Helsinki and London, at the end of the month we'll meet in Copenhagen. 😍"
Instagram / @nordtcompany
Improving processes together with an active user community
Providing tools for end users to create their own products and experiment at home, and establishing a communication channels in Facebook, have been a great ways to co-develop the production process and share best practices amongst the user community. Chris Holtslag, the founder of Helsieni a circular solution to grow mushrooms from used coffee scrubs, explains that "it's really nice to have this group of people who are learning with us, even if they're not part of the company. They are just doing it at home and sharing pictures and telling what works, telling what doesn't". Similarly The Good Guys a Finnish kombucha brewery decided to establish a open Facebook group for people interested in home brewing and people who had purchased their DIY kombucha kits . They also encourage people to share their home brewing through Instagram hashtag #munkombucha. (my kombucha) The active community shares their learnings to others, and also serve as an inspiration to new kombucha innovations and flavor variations.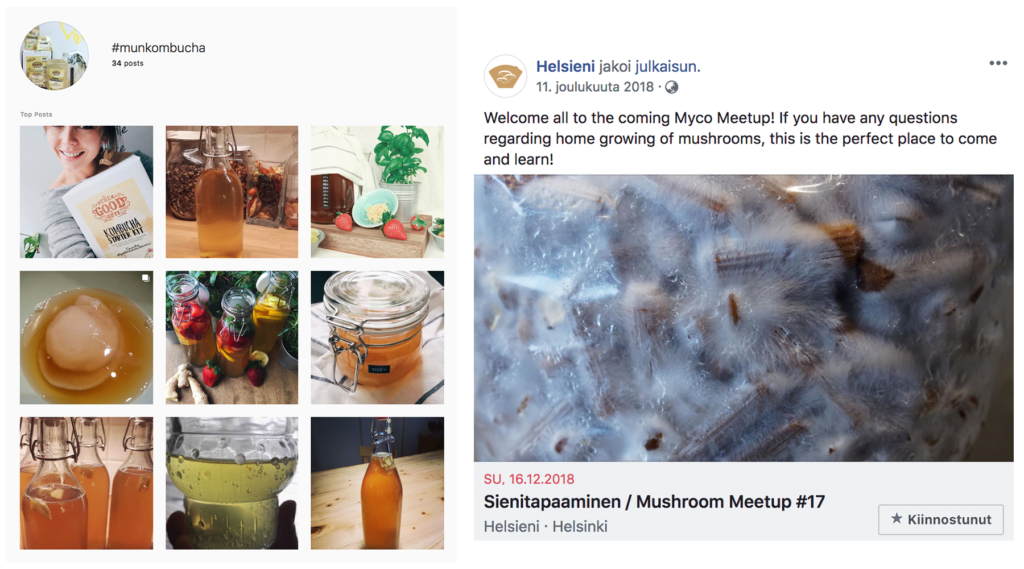 SOMETHING TO CHEW ON: 
Ask followers about product feedback
Crowdsource ideas for new products
Encourage users to share their experiences with products
Design a tasting event and invite your followers to join
Create a community  of enthusiasts to involve in development activities
Get initial feedback about new product ideas
---
DesignBites is a multidisciplinary Aalto Design Factory research project investigating the needs and practices of experimentation and design work in food and beverage startups and SMEs amidst their internationalisation efforts. During the first year of the research project, we've focused on Finnish startups food and beverage ventures, tracking the development activities of 17 companies ranging from premium food and drinks with local ingredients to creating new markets and consumption patterns. In 2019, we're broadening our view to different ecosystems across the world. Follow our journey from: Twitter & Instagram