4. – 8. of October 2021
The annual festival for DFs around the world
The Design Factory Global Network is powering up to reach the next level. Whether your DF gamer style is newb, casual, hardcore, or pro, you are more than welcome to join in on the fun. For the second time we are taking the International Design Factory Festival (IDFF) online, inviting people from inside and outside of the design factory community to learn from, share with, and be inspired by each other.
Join our public events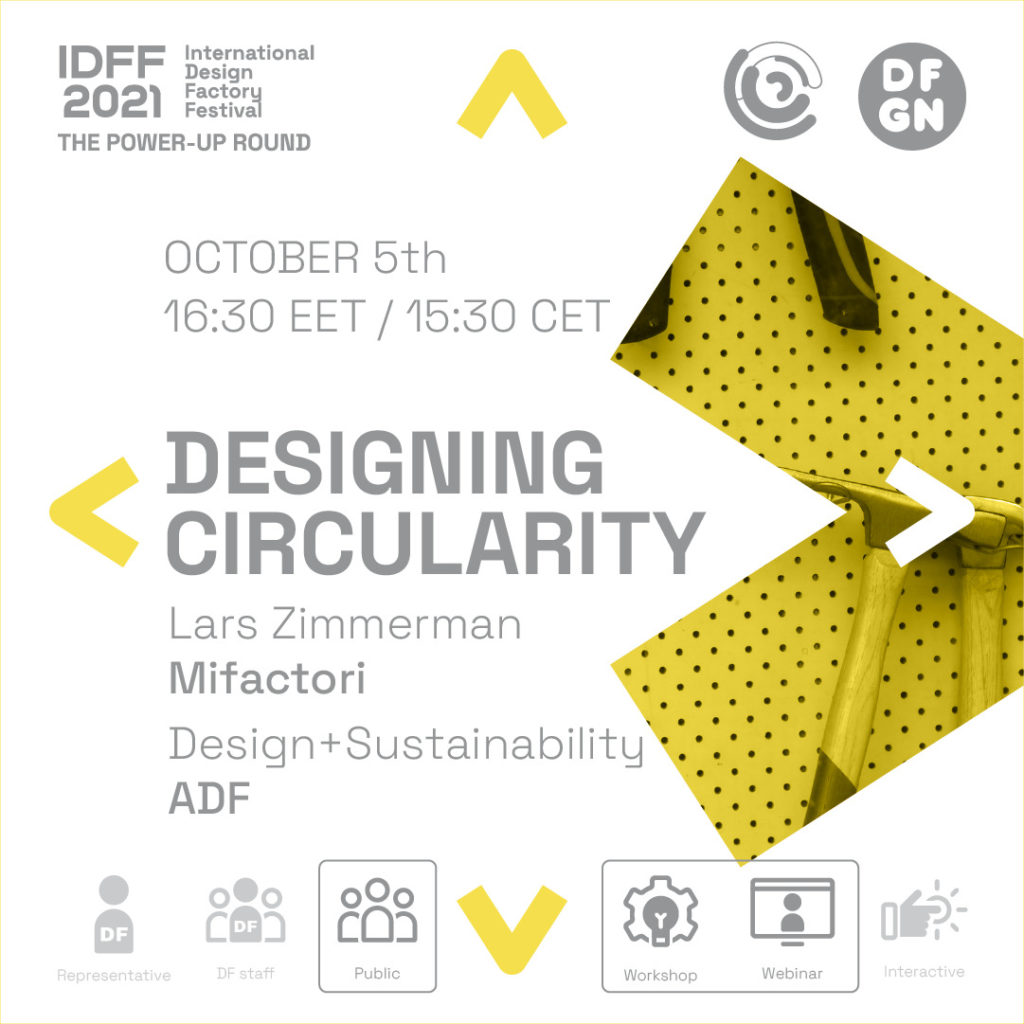 Designing
Circularity
---
Date: 05.10 Tuesday
Time: 16:30 EET
---
The event is hosted by inno.space and Aalto Design Factory
Designing Circularity is a a two-hour event in which we get to dig deeper into the topic of sustainable design, both through keynotes in which our experts share their vision and discuss the role of designers in sustainable organisations, as well as through a workshop that allows us to explore the ways how to support the integration of sustainability in project-based teaching.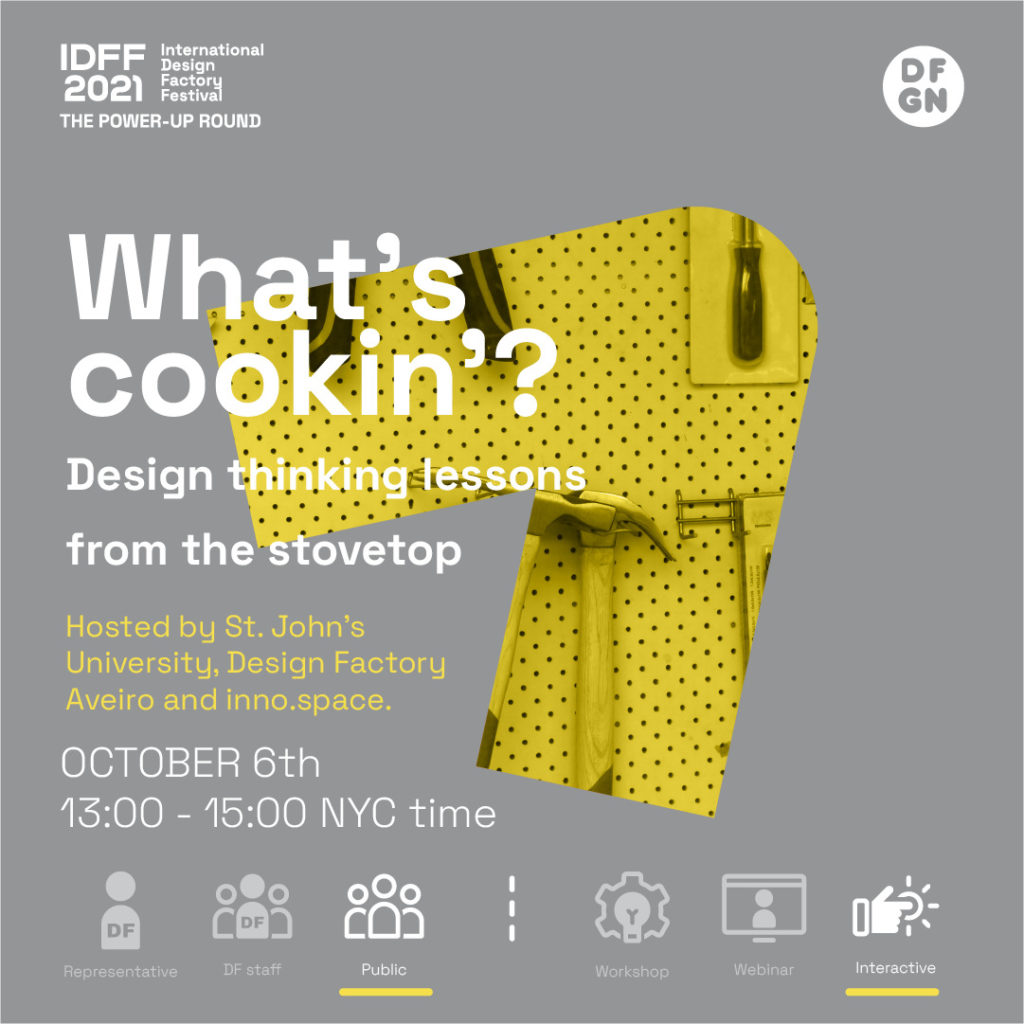 What's
cookin'?
---
Date: 06.10 Wed.
Start Time: 13:00 NYC
---
This event is open to everybody.
This event is hosted by St. John's University, Design Factory Aveiro and inno.space Design Factory. Design thinking is probably never more at work than in a kitchen. Cooking is about empathy, making, skills, tradition, novelty, experimentation, and mistakes. You can cook with us or just join and discuss the implications for design deriving from this powerful metaphor. We will send more instructions to those that will RSVP.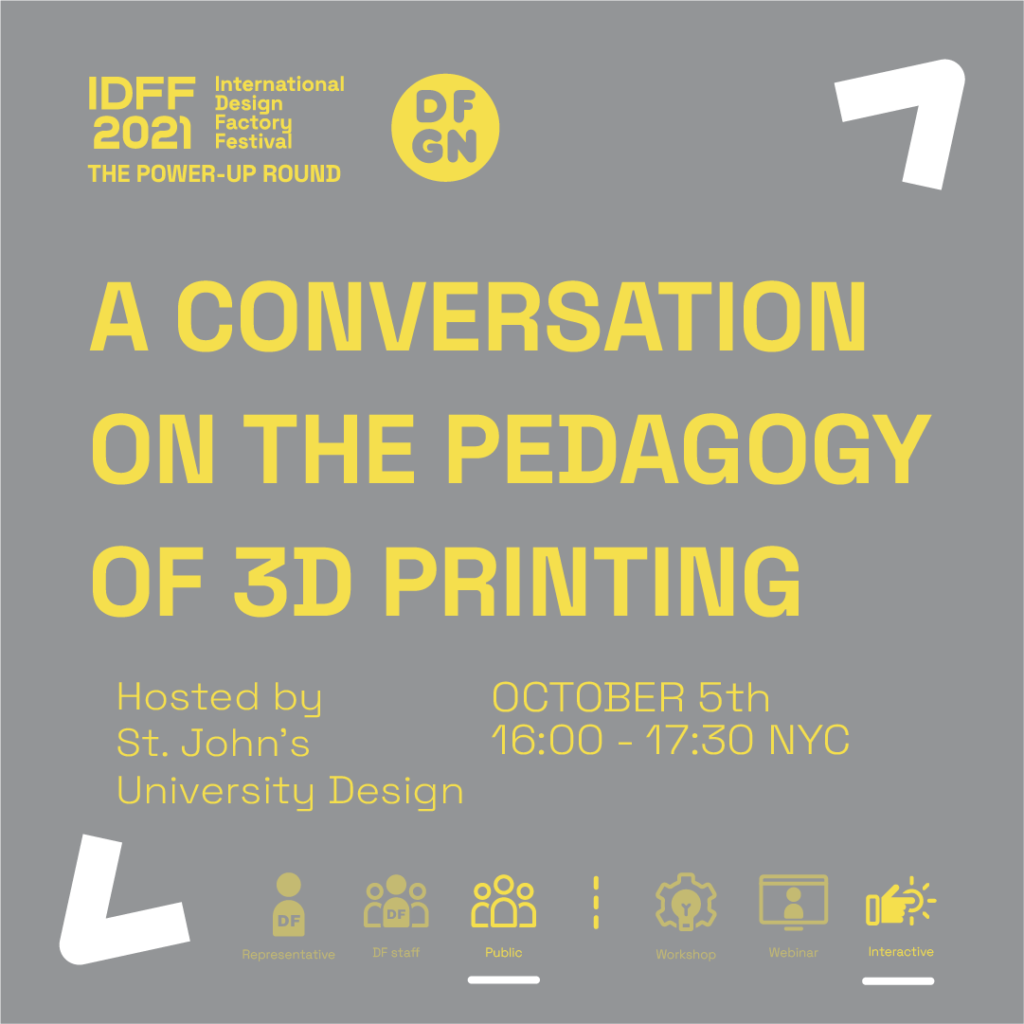 Pedagogy of 3D printing
---
Date: 05.10 Tuesday
Start Time: 16:00 NYC
---
Max Hergenrother (presenter and moderator, St. John's University)
3D printing is a great technology to support creativity and innovation for our students as well as a sophisticated prototyping technology that is becoming more and more accessible. Join this conversation to share your experience or just learn what are the pedagogical implications and challenges of introducing 3d printing in our classes and labs.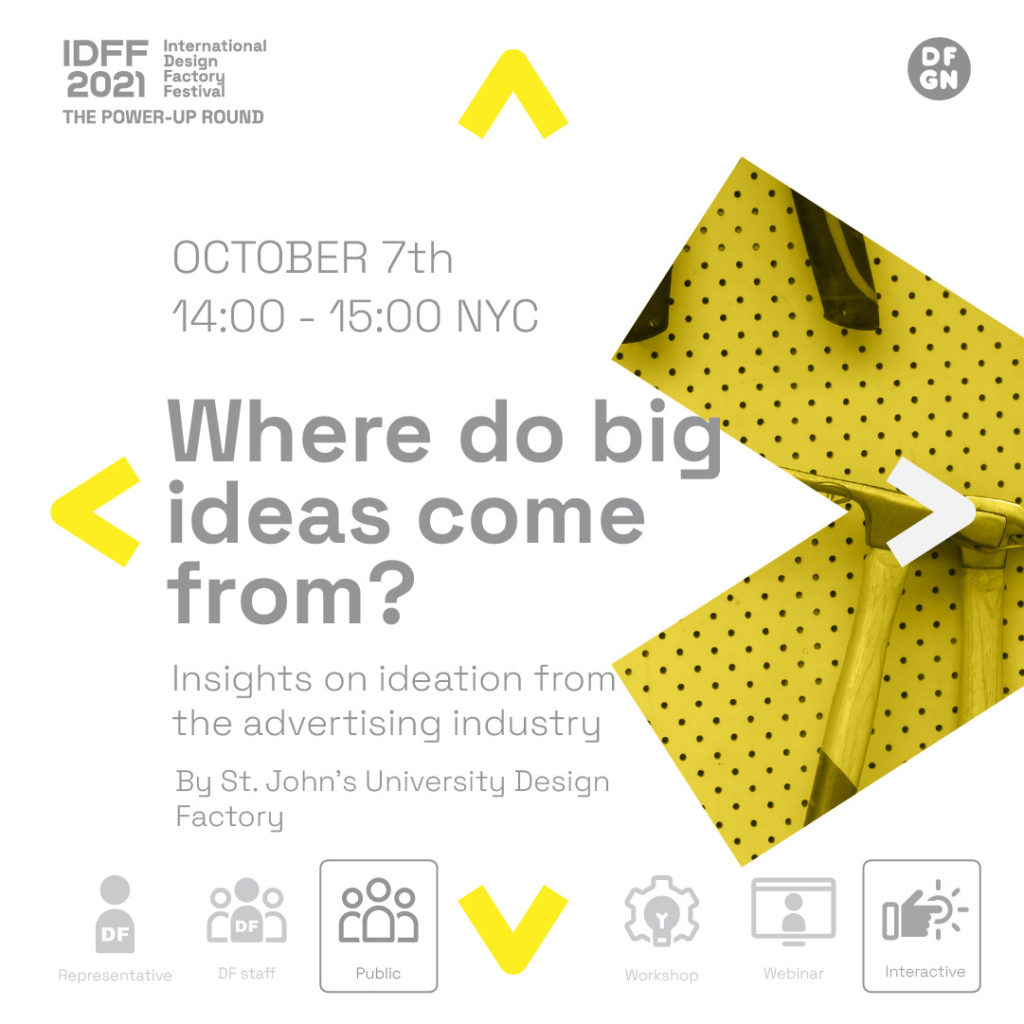 Where do big ideas come from?
---
Date: 07.10 Thursday
Time: 14:00 NYC
---
Ideation in product design is really about meaning discovery and creation.  What we make "speaks" to the users and every act of creation is also an act of communication. For advertising creatives, communication is the product, and the act of creation happens daily and sometimes in an even shorter period. Explore the inner workings of advertising creatives at this moderated discussion with a Creative Director, Executive Strategist, Entrepreneur, and Senior Executive/Leader.
---
Week Schedule
Monday 4th – Friday 8th of October
---
NOTICE
The schedule is for reference only, and may not be fully updated. The times shown are local Helsinki times (EEST). The event listing on the Mighty Network will be shown in your local time.
---
---
About the International Design Factory Festival
The International Design Factory Festival (IDFF) is a one-week long digital event where the Design Factory Global Network gathers to get to know each other, share best practices, and plan for collaborations. Through interactive collaboration sessions, workshops, and webinars, the participants refuel and expand their professional tool boxes and strengthen the ties with educational changemakers around the world.
About the Design Factory Global Network
The Design Factory Global Network (DFGN) consists of 34 innovation hubs in universities and research institutions around the world, spanning from North America to Oceania. We are on a mission to create change in the world of learning and education by facilitating and conducting workshops, events, and courses revolving around concepts like design thinking, experimentation, and pedagogical development.
For Design Factory Staff
This year's event is hosted on our Mighty Network platform (MN for short). If you are DF staff or a DF representative, you should head right over there and sign up to get the full IDFF experience! Below you find our public sessions. They are open to anyone who is interested and might also require you to sign up to MN.
…
IDFF 2021