LEARN ABOUT
DESIGN & SUSTAINABILITY
with real-life case examples!
The Design+Sustainability cards offer prompts to stimulate design and sustainability thinking! The card deck represents a range of diverse examples to support understanding, learning, and reflection.
For educators, the Design+Sustainability cards offer a tool to enable sustainability focused discussions in the class and construct learning experiences that draw from real world cases.
For students and professionals in working life, it's an exciting way to learn more about the design process and the various dimensions of sustainability!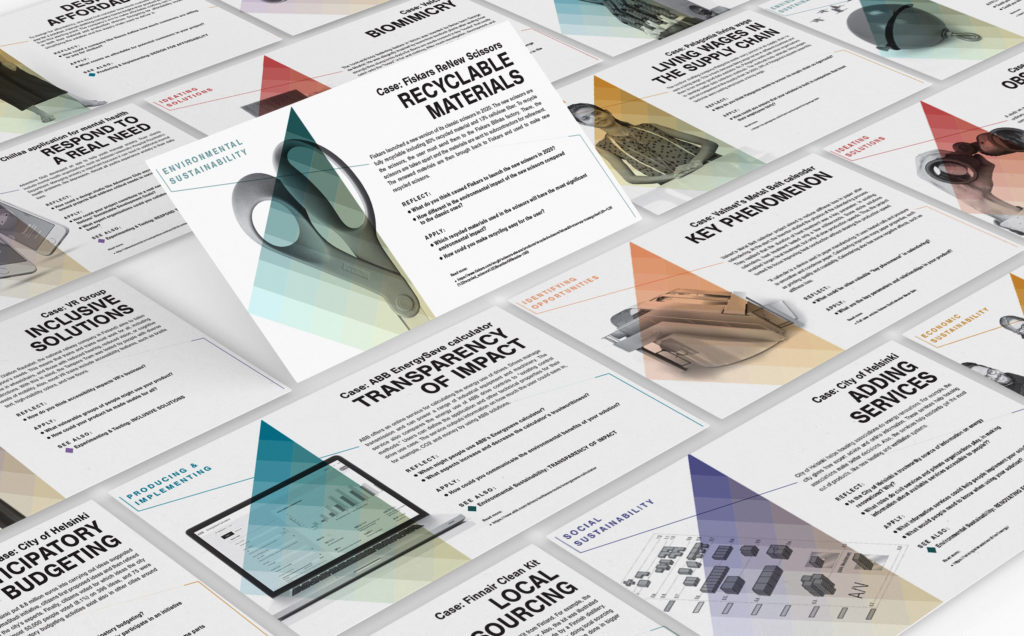 Download the cards (pdf) here
&
the case article on Valmet Metal Belt Calendar (pdf) here
Click the following steps to learn more!
step 1:
step 2:
step 3:
step 1:
WHAT ARE THE DESIGN PHASES?
The cards explore a range of sustainability decisions made throughout the design process. These decisions could range from deciding to include a broader range of stakeholders when making sense of the challenge at hand, to using different types of prototyping methods to test one's ideas. Throughout the cards the relevant design phases are indicated.

1. IDENTIFYING OPPORTUNITIES
For figuring out what is relevant and valuable to design, as well as for searching new points of view.
2. IDEATING SOLUTIONS
For systematically generating potential solutions.
3. EXPERIMENTING & TESTING
For honing your solutions through experiments and tests.
4. PRODUCING & IMPLEMENTING
For building realistic models of your solutions and finding the right production methods.
step 2:
WHAT IS ENVIRONMENTAL, ECONOMIC & SOCIAL SUSTAINABILITY?

ENVIRONMENTAL
For maintaining biological diversity and preserving biological ecosystems, e.g.
• Life cycle thinking
• Renewable material options
• Circular solutions
• Energy reduction
• Optimised manufacturing
ECONOMIC
For achieving business goals without damaging the environment or diminishing social equity and justice, e.g.
• Viable business models
• Value of offerings
• Accessibility & reach of offerings
• Resilient ecosystems

SOCIAL
For meeting basic human needs as well as promoting equity, justice, and diversity, e.g.
• Food & hygiene
• Accessibility
• Inclusiveness
• Addressing vulnerable people
step 3:
HOW TO USE THE CASES?
– teaching, inspiration & self-orientated research –
The case cards were designed to offer educators, students and anyone interested in sustainability the opportunity to learn more and reflect on how sustainable dimensions could influence their own practice. The activities are suitable for individuals, teams as well as larger classes.
You can find a selection of possible use scenarios below, but we encourage you to be creative and find novel ways to use the cards!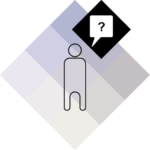 FOR TEACHERS:
IN-CLASS DISCUSSION, REFLECTION & ANALYSIS
Have students discuss cards and/or cases, using the "reflect" questions as discussion prompts. Students can also individually reflect on cases using, for example, critically reflective journaling, as well as do some further desk research using to deepen their understanding.
TIPS ON GETTING STARTED:
EXAMPLE A – PAIR REFLECTION
1. Before introducing sustainability dimensions in the class, have each student select a card that resonates with them.
2. Form pairs to discuss what kind of type of sustainability the selected examples reflect. How effective does the solution seem from a sustainability perspective and why?
3. After a pair discussion, introduce the three pillars of sustainability and how they might overlap or interconnect.

EXAMPLE B – JOINT DISCUSSION
1. As a teacher, pick one of the examples.
2. Ask the class how they might improve the sustainability of that product, service or system (e.g. how scissors could be more sustainable).
3. Introduce what the organization had done (e.g., using recycled materials in the scissors) to show a tangible example, yet highlight the plurality of potential improvements.
EXAMPLE C – REFLECT
1. As a reflective assignment, have students choose a case card.
2. Ask students to identify at least one thing from the case card's 'reflect' and 'apply' prompt questions that challenged their thinking, values, and opinions on design.

EXAMPLE D – ANALYSIS
1. Distribute the cards randomly among the students.
2. In pairs, students review the case cards and share and report initial assumptions, as well as additional questions that might come up (30min, 15min per card).
3. Individually, students do research to respond to the 'reflect' and 'apply' prompt questions in-depth using adequate referencing (2h).
4. Students share their findings in pairs, and discuss which of their assumptions were challenges, confirmed, or shifted (30m, 15m per case).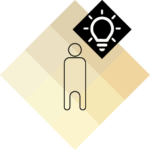 FOR STUDENTS:
DESIGN GUIDELINES 
Peruse the cards to invoke, reinforce, and/or question things you have previously learned about design.
TIPS ON GETTING STARTED:
EXAMPLE A
1. Situation: students have already started a project and have defined what challenge & problem they are addressing and what processes to use.
2. Distribute cards among student groups. Encourage students to stop their process and look at good practices based on the cards to re-iterate their original idea.
3.

Give the students the opportunity to continue the project and implement, if necessary, the "inspirational cards".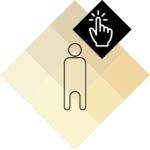 FOR PROFESSIONALS:
PROJECT INSPIRATION & RESEARCH
Peruse the cards and/or cases and see what resonates for your own projects.
TIPS ON GETTING STARTED:

EXAMPLE A
1. Draw a card from the pack and see how that might work as an analogy in your project context.
EXAMPLE B
1. Place all the cards visibly on a table, or have your navigate to the webversion.
2. The design team picks a card that resonates with them (5min).
3. The team reviews the card, and discuss the implications for their design project (15min).
4. The team reports the main insights and the next steps to tackle the identified issues (15min).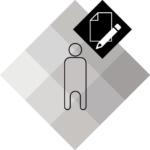 FOR ALL USERS:
CREATE NEW CARDS!
You want to add your case examples for your own use, or pitch cases to us for the open source case deck?
CREATE YOUR OWN CARDS
1. Download our Modifiable Case Card layouts (PowerPoint file) here

.


2. 

Using the instructions in the layout, fill in your case example and use it in your teaching/team work. 
PITCH CASES TO US
1. Download our Modifiable Case Card layouts using the link above.
2. 
Using the instructions in the layout, fill in your case example and send the file to 
tua.bjorklund(at)aalto.fi – we'll revise your content and add it to the case deck!
For more card-based design tools and info on how to use them, see https://doi.org/10.1016/j.destud.2019.04.002.
Case Toolkit